We aim here, alongside School Entrance Tests to detail:
What are the A-Level Grade Boundaries 2022?
When is A-Level Results Day 2022?
See more detailed 2022 A-Level exam info here: Education Hub.
2022 A-Levels Results Day
The latest Ofqual 2021/22 announcement was that there will be A-levels held for the 2021/2022 school year. So, despite ongoing Covid-19 disruptions, there will be 2022 A-levels – as well as vocational exams.
2022 A-Level grades
August 2021 Update
More than 99.9% of all teacher-assessed GCSE A-Level grades have bWith more than 90% GCSE A-Level evidence sent in the first 48 hour period.Despite all the 2020/21 disruption, teachers now want to focus their very precious face-to-face teaching time with pupils.
In summary, all UK schools must still wait for certainty on plans for 2022 exams. So that GCSE and A-Level teaching can go back to normal in 2023.
Independent 6th Forms
This table lists the Top Private Sixth Form Colleges in the UK based on 2018 A-Level results. Rankings are based on the percentage of A Level entries awarded A* and A grades.
Private 6th Forms
A + A* %
Name
Day/Board
Boy/Girl
Day £
Board £
1
88.68
Cardiff Sixth Form College
Both
Co-ed
16,600
42,750
2
83.54
Oxford International College
Both
Co-ed
21,000
42,000
3
81.43
Concord College
Both
Co-ed
14,280
39,900
4
58.33
Hurtwood House
Both
Co-ed
28,950
43,428
5
54.17
Bellerbys College Cambridge
Both
Co-ed
27,060
38,940
6
53.71
Abbey College Cambridge
Both
Co-ed
29,000
7
53.37
d'Overbroeck's Oxford
Both
Co-ed
23,850
38,700
8
49.61
Ashbourne Independent Sixth Form College
Day
Co-ed
26,250
9
47.21
Cambridge Tutors College
Both
Co-ed
15,900
39,990
10
47.10
Brampton College
Day
Co-ed
19,935
11
44.09
CATS College Canterbury
Both
Co-ed
24,990
39,480
12
42.55
Bosworth Independent College
Both
Co-ed
12,600
30,300
13
41.24
Albemarle Independent College
Day
Co-ed
21,000
14
39.29
CATS College Cambridge
Both
Co-ed
24,990
44,775
15
36.81
Welbeck – The Defence Sixth Form College
Boarding
Co-ed
16
34.29
Mander Portman Woodward – London
Day
Co-ed
30,678
17
32.94
Mander Portman Woodward – Cambridge
Day
Co-ed
28,305
18
32.63
Mander Portman Woodward – Birmingham
Day
Co-ed
19,980
19
31.01
Bellerbys College Brighton
Both
Co-ed
27,060
43,704
20
30.53
Abbey College Manchester
Both
Co-ed
12,750
21
30.50
Chelsea Independent College
Both
Co-ed
24,000
48,000
22
29.75
Cambridge Centre For Sixth Form Studies
Both
Co-ed
21,000
48,000
23
28.65
Rochester Independent College
Both
Co-ed
18,000
36,900
24
26.26
Oxford Sixth Form College (formerly Oxford Tutorial College)
Both
Co-ed
24,450
39,825
25
26.14
Bath Academy
Both
Co-ed
16,895
36,500
26
24.86
CATS College London
Both
Co-ed
24,990
49,980
27
24.83
DLD College London
Both
Co-ed
23,000
50,500
28
21.29
Collingham
Both
Co-ed
21,570
29
20.93
Ealing Independent College
Day
Co-ed
16,050
30
20.46
Fine Arts College Hampstead
Day
Co-ed
21,690
Our Other School guides
Firstly, private Sixth Form Admissions, top private sixth Forms Guide, private London Sixth Forms blog and London Sixth Forms Guide.
Secondly, London Prep Schools Guide, Prep schools, London prep schools guide and Top London Prep schools blog.
Thirdly, London private schools, Private London School Admissions (A-M).
Plus, London Independent Schools Guide, and London's top independent school A-Level results.
Then, Grammar Schools Guide, London 11 plus practice tests, 11Plus GL Guide, Grammars using 11 plus GL Assessment Guide , Guide to Grammar School Entry.
Also, UK Boarding Schools Guide, and primary school league tables,
Finally, London Pre-Schools Guide,
Top 6th Forms
School Entrance Tests
At School Entrance Tests we aim to provide useful best school guides and to take the anxiety out of school entrance tests for students and parents:
Providing a vast collection of free private and grammar school entrance exams and educational resources.
Creating fun and effective 10-minute tests in the form of quizzes.
Providing children with practice exam questions within time restraints. At the same time, they can review the feedback to their answers. This gives children more personal responsibility for their own learning.
We understand how stressful entrance exams can be and therefore want to level the playing field for those who can't afford tutors / private education.
2022 A-Levels Results Day and private sixth forms
Our A-Levels Guides
A-Level 2021 trends
Entries for A-Levels 2021 increase by 2 per cent – from 731,855 in 2020 to 756,230 in 2021.
AS entries 2021 decrease dDue to the impact of the move in 2015 to decouple AS-levels from A-levels.
53,300 AS-level entries in 2021 which was down 33 per cent from 86,970 in 2020.
Since 2017, the number of AS-level entries has fallen by 91 per cent.
2021 A-level geography, 2021 A-Level law and 2021 A-Level computing entries increase
Entries to A-level geography rose by 16 per cent this year, with law and computing also seeing rises of 14 and 10 per cent respectively.
Psychology and sociology entries have also continued to rise with an increase of 8 per cent each.
Economics and business studies entries have both risen by 6 per cent, and religious studies 7 per cent.
2022 A-Level results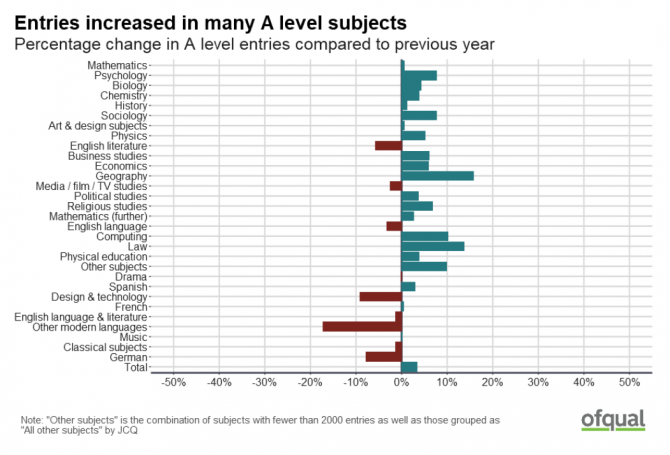 2022 A-Level results day